Pascal Mannekens


Sleep without Back Pain - maximise your sleeping comfort

Pascal Mannekens is a physical therapist, an ergonomic consultant, key-note speaker, lector, ghostwriter and a researcher, specialized in Biomechanical Analysis of the Spinal Column on sleep systems. Both at home and abroad, he built an impeccable reputation as an expert on sleep comfort. He is involved in various (product) development projects and works together with university research departments and international companies to produce sleep systems.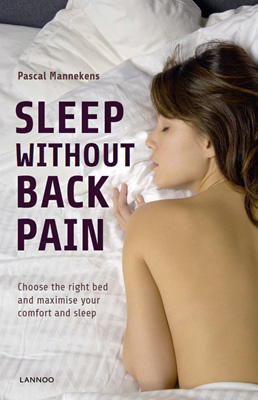 Sleep without Back Pain
Choose the right bed and maximize your sleeping comfort


240 pages
Available for the bedding Industry October 2016 / Available for the consumers end 2016 - first quarter 2017
ISBN 978 94 014 3937 4
If you are a consumer and can't wait, send an e-mail to order@sleepwithoutbackpain.be
Press release
Pascal Mannekens


About
1980
Pascal Mannekens grew up in Belgium in the 'Mannekens family' who founded one of the first specialized bed stores in the 80's: "Bedking". Bedking is now one of the leading retailers in bedding in Belgium.

1994
In 1994, Mannekens obtained his Master in Physical Therapy at the Catholic University of Leuven (KUL). His thesis 'Radiologic evaluation of sleep systems for the prevention of back complaints' was readily taken into account. This was the first study worldwide to make X-rays of the spinal column of a healthy population without neck and back pain, on different sleep systems. This research was funded by the LS Bedding Group Belgium, Royal Auping from the Netherlands and Swissflex-Matra AG from Switserland. Swissflex is actually one of the brands from the Recticel Bedding Group.

1995
In 1995, Mannekens begins working in the bedding industry as a Product Manager Bedding at Recticel Bedding Europe. In collaboration with the Catholic University Leuven (KUL), Recticel starts a study regarding 'spinal support for different body shapes on sleep systems'. Mannekens teaches "Ergonomics" and is frequently invited as a speaker at congresses for both professionals and consumers.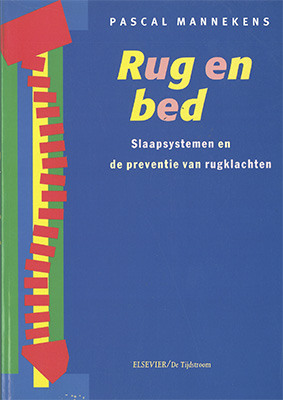 1996
In 1996, he publishes his first book 'Rug en Bed' (Back and Bed), edited by the scientific publisher Elsevier. 'Back and Bed' was sold over 10.000 times and became an important reference study for academics, doctors and physical therapists, as well as the bedding industry, retailers and consumers.
1997
In 1997, Mannekens joins the family business "Bedking" and enters the world of bedding retail. He continues his research program regarding 'spinal mapping on sleep systems' in collaboration with different institutes in Belgium.
2014
After 20 years of research and having seen thousands of patients with non-specific back pain and sleep disorders he publishes the first world-wide consumer book about sleep and bedding systems. The Dutch edition of 'Sleep without Back pain', edited by Lannoo Publisher, was officially launched in the Netherlands on September 22nd.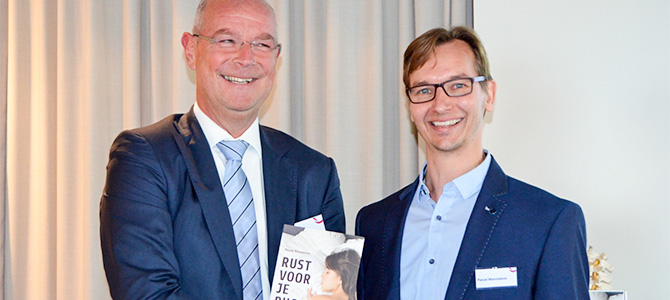 2015
In response to misleading mattress tests, published in the January numbers of the Dutch and Belgian Consumer Organizations, the Dutch national TV channel Radar TV on NPO1 broadcasts a special consumer program concerning the tests and the miscommunications of salespersons in the Netherlands. In this broadcasting, Pascal Mannekens provided expert advice and practical tips regarding the purchase of sleep systems to 4 million viewers.
End 2015
As a result of the Radar TV broadcast, an expert meeting was organized by the European Consumer Organization in The Hague for the first time in 20 years. The most important Dutch mattress manufacturers and representatives from different European Consumer Organizations as well as Test Institutes with worldwide connections were present. The subjects discussed all involved the testing of mattresses.
2016
The English edition of 'Sleep without Back Pain' is officially launched at the Bed Show in Telford -UK, organized by the British National Bed Federation (NBF). The Bed Show is UK's most important bed exhibition for professionals in the bedding industry. The book, published by Lannoo Publishers, will be available in bookstores throughout the globe starting end 2016 – first quarter 2017. The book is now available to suppliers, manufacturers and retailers from the bedding industry via Bedking Distributions on the order form.
2017
The German edition of 'Sleep without Back Pain' will be launched during the first Quarter of 2017. Soon more information about the official launch.
If you are a journalist, radio – television producer and want to know more about the book, please contact us at secretary@sleepwithoutbackpain.be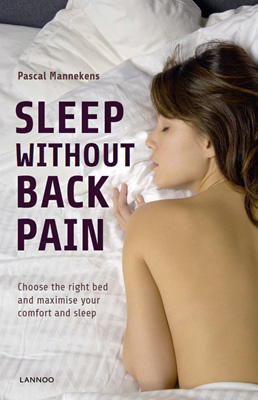 Book preview
Flip through a free sample of the book ›
The book that will significantly improve your chances
of a good night's sleep
We spend about a third of our lifetime sleeping. Yet many people fail to pay enough attention to the importance of a good sleeping environment. A good night's sleep and a good sleeping position may nevertheless prevent many problems. Around 8 out of 10 people suffer from severe back pain at least once in their lifetime. Nearly 10 percent of them also develop chronic back pain. A substandard bed is often the greatest contributing factor to this problem.
After reading this book you will know as much (or even more) about back- and sleep hygiene as your physical therapist or your general practitioner does.
"Pascal Mannekens describes, in a scientifically sound and easy to read way, how to best customize one's sleeping environment (bedroom, sleep system and mattress) to one's individual circumstances. A must for everyone who wants to sleep better and in doing so, keep their body in perfect condition."
prof. dr. Anton Coenen
Radboud University Nijmegen
"Sleep is essential for our health and happiness. So it's worth the effort to reflect on it (or better: to sleep on it). If you cherish your back and your bed is important for you, then this fascinating and accessible book will point you in the right direction. Enjoy your read and sleep!"
prof. dr. Gaëtane Stassijns
University Hospital of Antwerp
"This book provides a solidly based survey of optimal sleep systems and customized sleeping positions. Essential for a good night's sleep for everyone, whether or not they suffer from back pain."
prof. dr. Simon Brumange
University of Leuven
You can use this form to order the book 'Sleep without Back Pain'. BVBA Bedking Belgium is the worldwide distributor for the books to the mattress industry.

After the submission, you will receive an invoice per mail for the amount due. Pay to our bank account mentioned in the invoice and you receive the books within 14 days after receipt of payment. For special requests, please contact secretary@sleepwithoutbackpain.be
Order details
Fill in all the fields before sending.
If you would like to receive more information about Pascal, his books, the mattress industry or his research program you can contact his secretary through this form. Depending on the question we will do our best to answer your question within a few days.

Send a message
Fill in all the fields before sending.